Problem solve
Get help with specific problems with your technologies, process and projects.
Understand Oracle versioning: 8i through 11i.10
From Database 8i through E-Business Suite 11i, what do all the version numbers mean? This tip offers a complete overview of Oracle versioning, with emphasis on E-Business Suite.
Carol Francum, SearchOracle.com resident 11i guru and CIO for Ashford Systems Group, helps clarify Oracle versioning....
Continue Reading This Article
Enjoy this article as well as all of our content, including E-Guides, news, tips and more.
For more information, ask Carol a question in her Ask the Experts area.
---
Listening in to a conversation between Oracle users can be very confusing:
Imagine stepping into the break room and you hear Phil and Bill say, "We're looking at migrating to 11i, we're on 10.7 using 8.1.4."
On the way to your office, you hear Sarah tell HR, "Well, we need someone who's experienced in 11.5.9."
You heard the IT department is developing a Portal. When you ask your pal for more information he says: "Well, we want to compare Websphere to Oracle Application Server."
And, in a meeting with the sales and marketing staff: "Agreed. We need to implement CRM. Bill, will you look into how that works with the Financials?"
"Huh?"
They're all talking about Oracle, but they're referring to different aspects of Oracle products. Let's see if we can clear it up, at least a little.
Background
Initially, there was Oracle the database. A database exists to store information in a logical manner, and uses rows and columns of data organized in tables. To add or modify data in the database, we use forms, and to correlate information in the database in a meaningful way, we use a reporting tool.
The first Oracle version I encountered was version 4 on Digital Equipment Corporation VAX. We used the database to store important information about our project requirements. We had some tools called Forms 3.0 and Reportwriter, which developers used to create some custom applications for our users. They created forms and menus that helped guide our data entry and retrieval.
I asked our venerable, master DBA Marlene what it was all about, and she drew me this diagram: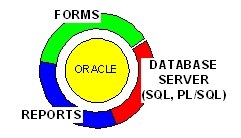 She explained that we use version number to differentiate functionality. She was preparing to upgrade the database to 5.0, and the Reportwriter application had changed. It was was easier to use version 2.0.
In my opinion, the numbers have always been confusing. It has become a DBA rite of passage, "what was your first database version?" followed by, "Back then migration was a bear." The database (a.k.a. the server) really has two critical components: The data information resides in datafiles on a particular computer, and the software controlling the information, which allows input from forms and output to reports. Common Oracle database versions are 7.3, 8.1.7 (8i) and 9.2 (9i). The "i" means "Internet enabled." The 8i and 9i versions of the database provide extensive capability to support easy Internet access. Oracle has just announced 10g, which is available for some Unix based systems, with Windows and Linux versions expected within a very short time. 10g provides the ability to perform grid computing, dynamically tapping the unused processor cycles of distributed, networked computers.
About business applications
Not all companies want the burden of designing their own tools. Oracle offered a set of business tools based on industry best practices. These are the Oracle Financials, Manufacturing and Human Resources applications. Originally, these applications where character based in contrast to the GUI (graphical user interface). Version 10.7 offered both character and GUI interfaces, and is still in use.
The financial, manufacturing and HR applications share information in many areas in supporting the company's business as a whole. All of the business operations are called the Enterprise.
Oracle Financials are a set of tables, forms and reports which operate on the Oracle database; they allow users to track accounting, assets, liabilities and other finance-related information. The names of the financial applications relate to their function: General Ledger, Accounts Receivable, Accounts Payable, Purchasing, Fixed Assets and Costing are all key applications in the financials suite.
Oracle Manufacturing provides the ability for a company to track information about inventory, creation and design of products, and manufacture and sale of items. Key applications in manufacturing are Inventory, Bill of Materials, Manufacture, and Order Entry/Manufacture.
A third set of applications for the business are the Human Resource applications, which track employee information. The applications in the HR suite are as rich in functionality as Financials or Manufacturing.
The full set of the applications are called the 11i E-Business Suite. Information is shared via APIs (application program interfaces). For instance, when a customer order is filled and the item has been sent to the customer, inventory is adjusted, and the value of the inventory is accounted for in financial transactions, increasing the customer's account in Accounts Payable and generating an invoice to be sent to the customer.
The latest version of the applications is 11i. The 11i applications require database version 8i (8.1.7) or 9i. The primary advancement in 11i is the ability to deploy the applications on Internet, intranet or extranet. What's the difference? Internet applications are deployed so that they are potentially available to all users of the Internet. An intranet application is deployed inside the firewall, for potentially all employees of a business. An extranet allows the user within the intranet a pipe to specific sites, applications or interfaces on the internet. To capture and promote Internet-enabled business, Oracle has developed CRM (customer relationship management) applications, such as I-Store, and self-service applications, such as I-Purchasing and Self-Service HR.
If we continue with the analogy of concentric circles of business development, we add the applications to our diagram so that it looks something like this: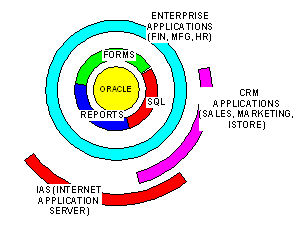 About Internet applications
When adding the ability to do business over the Internet, there are considerable concerns for security and control. Oracle originally provided something called WEBDB, which has transformed in to what is now called Internet Application Server 9i (iAS), and uses or integrates the functionality of a commercial tool, Apache or Apache Server. IAS works with the latest forms and reports tools to provide Web capability.
Because Oracle is available for multiple operating systems, we describe the interactions between the database server, forms, reports, computer platforms/operating system and the network configuration as the technical architecture of the system enterprise. The technical architecture of a business enterprise depends on a number of factors, including the number of users and requirements for whether the enterprise operates on a 24x7 basis, whether operations are local only or distributed nationally, or even globally.
Components of the e-business enterprise technical architecture may include as few as three tiers:
A client tier
An application tier
A database tier
These may be distributed over a wide area network (WAN). There is a wide variety of platforms available for each tier; the following tables are derived from Oracle support and certification information. The Oracle database is supported on 23 platforms, including Data General, HP, Sun and Compaq Alpha, depending on the operating system. The 11i business suite supports a wide variety of platforms, including Windows NT for Intel, IBM RS/6000 AIX, Intel-based Unix, Sun Sparc Solaris, HP 9000 series HP-UX. (Check MetaLink or send all certify and product availability inquiries to CERTADMN_US@oracle.com.)
| | | |
| --- | --- | --- |
| Component | Version | Database Version |
Dig Deeper on Oracle applications implementation and upgrades