photonetworkde - Fotolia
Tips for designing JD Edwards EnterpriseOne Android mobile applications
A SearchOracle.com guest columnist explains how to build an Android mobile application that connects to Oracle JD Edwards EnterpriseOne.
Mobility plays a vital role in today's business. Employees can connect to business anywhere, allow them to make real–time decisions or perform critical tasks any time. Designing mobile applications to meet these needs is crucial -- and it is no different with JD Edwards EnterpriseOne.
Employees can use mobile technology for tasks such as:
Approvals for faster decision making
Data query for customer queries
Data collections for faster customer response
Data entry for sales or service at a customer site
Android mobile applications for Oracle JD Edwards
To design a fully functional integrated application, you need to divide it into two tasks: designing and developing the Android application, and then creating the JD Edwards EnterpriseOne Web services.
You can develop a new Android application using Android Developer Tools, which is a plugin available for Eclipse IDE and helps developers create new Android applications quickly. The developer can use these tools to design the front end of the application, which acts as an interface with the user.
More on Oracle JD Edwards
Go ahead, put JD Edwards in a fluffy cloud
One "Girl in an Oracle World" feature spotlights a JD Edwards enthusiast
Oracle UPK could help boost JD Edwards ERP adoption
Developers can code the back end of the application using the programming language. To keep track of the data exchange with JD Edwards EnterpriseOne for audit purposes, you can use SQLite Database, which is a built-in Android feature. Using SQLite Database also helps reduce the use of Internet resources because the user can retrieve the information stored on an SD card instead of going to the JD Edwards EnterpriseOne database every time.
Another task in developing an Android app for JD Edwards EnterpriseOne is creating a Web service to interact with the third-party system. You can develop this Web service using either Oracle JDeveloper or the JD Edwards EnterpriseOne plug-in for IBM Eclipse. This Web service syncs the Android app data with work file data created in the JD Edwards EnterpriseOne. The work file can be created in the same format as that of an electronic data interchange work file. Web services can also trigger the new or existing business function to complete the process within JD Edwards EnterpriseOne.
Say you have a work table F554801 to store the unformatted data received from the Android application, such as the date and time of a service visit to the customer, the work the service person did and the customer satisfactory index. Using the Web service, you can create a new business function within JD Edwards EnterpriseOne to read and format the data for populating the standard JD Edwards EnterpriseOne tables.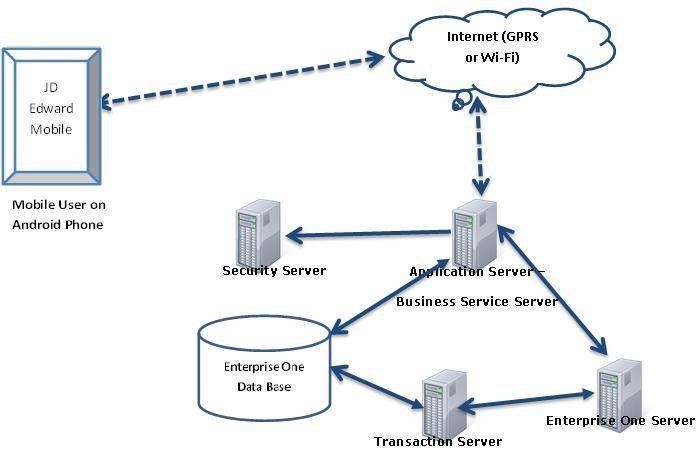 JD Edwards EnterpriseOne mobile application development
The sample data flow diagram shows where information is passed to and from the JD Edwards EnterpriseOne mobile application to the JD Edwards EnterpriseOne application server. The application server sends the user's information to a secure server for user authentication. When the user information is verified, the business service can update the database directly or it can use a JD Edwards EnterpriseOne report or business functions to update the database.
Mobile application options for JD Edwards EnterpriseOne
Some mobile applications available for JD Edwards EnterpriseOne users are:
Mobile Purchase Order Approval: allows users to review, approve or reject purchase orders
Mobile Requisition Self Service: automates the approval process
Mobile Sales Inquiry: allows users to review, approve or reject sales orders; inquire on item availability; search for an item by name and save the search for later
Mobile Expense Management: allows users to enter, review, approve or reject expenses
About the author:
Suresh Kumar Moda is a project manager in the Consulting and Systems Integration unit at Infosys. He has eight years of experience with JD Edwards EnterpriseOne and has handled implementation, development and support programs.
Next Steps
JD Edwards EnterpriseOne looks toward its legacy