Organizational change management plan is key to ERP projects
ERP expert Eric Kimberling says that an organizational change management plan is as important as the technical side of ERP projects.
Nothing is more transformative to operations than an ERP implementation, Oracle or otherwise. The organization must communicate with and train the employees who must learn and use the new processes and system. That is why an organizational change management plan is so important.
ERP consultants are often asked to explain what organizational change management (OCM) is and how it relates to enterprise software initiatives. In short, organizational change management is the practice of shepherding and supporting individuals through a transformative operational change. Because an Oracle implementation affects, in some way or another, nearly every staff member of a company, an organizational change management plan must make provisions for every staff member. A solid strategy also takes into account external stakeholders -- the vendors, customers, suppliers, shareholders and others who work with or provide support to the company. Similar to employees, these individuals need to know what's happening, why it's happening and what the short-term and long-term effects of it will be.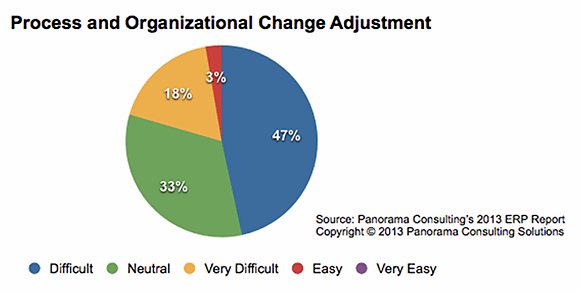 While all of this may seem rather obvious, you might be surprised to realize how often the lack of organizational change management is a root cause of ERP failure. You might also be surprised to learn how difficult it is to do it right. Panorama Consulting's recently published analysis, "2013 ERP Report: Organizational Change and Business Process Management," showed that two-thirds of organizations (65%) found that the business process and organizational change components of their implementations were "difficult" or "very difficult."
In contrast, less than half of the study participants (45%) said that the technical aspects of the implementation were difficult or very difficult. The irony, of course, is that when the going gets tough, companies tend to concentrate on the technical piece and shortchange, quite literally, the human side of the implementation.
So how can you tell if your company is investing enough in the organizational change management aspect of its Oracle implementation? The following are five key components of a solid organizational change management plan that, at the very least, your company should be leveraging.
Organizational readiness assessments. You can't tell where you need to go if you don't know where you are. An organizational change management plan should start with focus groups, one-on-one interviews and online surveys to determine the state of the organization. Companies should plan for at least two more assessments throughout the implementation to gauge effectiveness, uncover pockets of resistance and discover areas in need of improvement.
Segmented communications planning. Your communication efforts must be segmented by audience, needs, messaging and so forth. If an OCM or ERP consultant has provided you a communications plan that treats everyone involved similarly, you probably need to shop around for a better consultant. A shop floor worker needs different information and support from his or her manager, and a manager needs different information and support from a C-level executive. Don't let anyone convince you to cut these corners.
Change impact analysis. You can't know what to communicate without knowing what specifically is changing, when it's changing and what the impact of the change will be. A change impact analysis documents the changes by functional area and links them to elements in the communication plan to ensure that stakeholders are getting the targeted information (and messaging) necessary for success.
Executive alignment efforts. It is critical that your organization's executives are clear on the reasons behind the Oracle implementation, the benefits Oracle will bring to the organization, the priority of the project, the resource requirements and so forth. This is definitely one of those easier-said-than-done scenarios, so the counsel of an independent third-party ERP consultant can often be invaluable at this point.
Separate system and process training. Panorama typically recommends that organizations separate their process and procedure training from their system training. The combination of the two can be overwhelming for the student, who might get hung up on one or the other and become very frustrated. Handling it this way also means the organization can spread training out over months rather than weeks, which tends to improve results.
No matter how great your new ERP system is, its efficacy and impact on the company is truly going to depend on the people using it day to day. If your company has already chosen Oracle, then it has made a significant investment in both integrating and bettering its operations. Don't let a misguided or shortsighted organizational change management plan lead you astray now.
About the author
Prior to founding Panorama Consulting, an ERP-targeted consulting group, Eric Kimberling banked 15 years of ERP consulting experience at firms such as Price Waterhouse. Eric is an expert on ERP implementation project management, as well as ERP software selection and ERP organizational change.
Dig Deeper on Oracle applications implementation and upgrades