ra2 studio - Fotolia
Oracle HCM Cloud vs. Workday HCM: Which one is right for you?
Oracle and Workday are battling each other to gain an edge in the human capital management market. Here's how their suites of cloud HCM applications stack up against one another.
The business applications market is loaded with vendors pushing cloud-based human capital management tools that streamline and automate tasks commonly performed by HR teams. Two products in particular have emerged as major players: Workday Human Capital Management and Oracle HCM Cloud.
For several years, Workday and Oracle have gone toe-to-toe in an attempt to dominate the HCM market, with a winner yet to emerge. Both of their enterprise cloud services offer extensive sets of features that continue to evolve and expand, and the differences between the two suites are quickly becoming less apparent.
To draw a distinction between them, let's take a closer look at Oracle HCM Cloud vs. Workday HCM.
Workday HCM
Workday was founded in 2005 by Dave Duffield and Aneel Bhusri, former top executives at applications vendor PeopleSoft, which Oracle bought that same year. Workday HCM, a SaaS tool, hit the market in 2006. Workday was one of the early pioneers in SaaS, with Workday HCM leading the charge on cloud-based HR applications.
Unlike products such as Oracle HCM Cloud, Workday HCM has its roots in the SaaS model, offering a natively developed suite of HCM services that were designed from the ground up with cloud-like capabilities in mind.
Workday didn't have to accommodate existing on-premises products or systems and could instead focus on delivering a set of unified services based on technologies that could be regularly updated and optimized according to a single architectural model. It has also been at the forefront of delivering mobile HCM capabilities in conjunction with its enterprise cloud offerings.
The Workday HCM suite includes HR management, benefits administration, talent management, recruiting, big data analytics and several other core services. In its first two Magic Quadrant reports on cloud HCM suites, released in June 2016 and August 2017, Gartner rated Workday as a leader in the category, along with Oracle and SAP. Ultimate Software also made the leaders list in the 2017 report.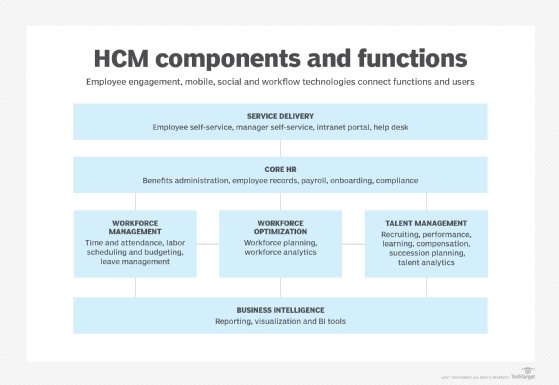 Oracle HCM Cloud
The Oracle HCM Cloud service evolved much differently than Workday HCM did. A good portion of the HCM Cloud suite is based on Oracle's existing Fusion applications stack, a service-oriented platform that delivers on-premises and cloud-based applications that span HCM, ERP and CRM functions.
In addition, some parts of Oracle HCM Cloud are based on technologies that came from Taleo, a talent management software vendor acquired by Oracle in 2012. The Taleo components provided the employee recruiting, onboarding and training capabilities in HCM Cloud, although the latter actually came from Learn.com, which Taleo acquired in 2010.
Together, these varying technologies with their different roots were pulled together to create Oracle HCM Cloud, which offers HR and talent management, along with workforce management, HCM analytics and tools for managing things such as workforce rewards and work-life balance programs. Customers also get embedded social services and mobile access.
The not-so-great divide
Both Workday HCM and Oracle HCM Cloud provide extensive capabilities on a global basis, making it difficult to choose one over the other.
If you're considering Oracle HCM Cloud vs. Workday HCM, you'll likely want to start by comparing them on a feature-by-feature basis. Although each has its strengths and weaknesses, your preference for one over the other will likely come down to your organization's needs and how well the products fit those needs. When comparing the two services, however, there are other factors you should also take into account.
One is the much different paths that Oracle and Workday took in creating their product offerings. Workday was conceived and implemented from day one as a natively developed cloud service. It uses a single source of data, shares a common security model across all features and provides a fully integrated environment.
On the other hand, Oracle HCM Cloud was built on multiple technologies that evolved separately -- and none were developed under a cloud-first model, in part because of Oracle's initial resistance to the cloud. That resulted in an initial release that often seemed incomplete or inconsistent, and that delivered a less than stellar user experience.
But Oracle quickly made up for lost ground, and it now offers a more consistent, integrated product, with strong mobile, social and collaborative capabilities. Even so, Workday's cloud heritage makes it easier to push out updates, implement cutting-edge technologies and deliver a cleaner, more user-friendly application that gives Workday an edge when it comes to user experience.
Conversely, Oracle HCM Cloud has a big advantage in its integration with other Oracle products. Customers already committed to Oracle offerings will likely find it easier to migrate to HCM Cloud at a fitting pace, as well as to coexist with existing Oracle systems. This can be especially beneficial to customers already using Oracle's ERP, CRM and PeopleSoft products.
Deep pockets or less baggage?
Another advantage that Oracle has is its extremely deep pockets for further innovation and new features. On the other hand, Workday isn't as top-heavy a company, and it is less tied to old technologies, potentially making it more agile and better able to respond to a changing market.
Pricing will undoubtedly also be a factor in deciding between Oracle HCM Cloud vs. Workday HCM, but the true cost of a cloud service must take into account more than just the quoted subscription fees. For this, you must do a thorough cost analysis of each suite before making a final decision.
The challenge here is that pricing is continuously changing as Oracle and Workday attempt to outbid one another. In addition, a company's location and number of users can be important factors in determining the total cost of ownership, which is further complicated by the extent of geographic distribution. And, of course, existing Oracle customers will have a much different perspective on migrating to a cloud-based HCM system than those starting out new.
Clearly, each vendor offers a credible product. In the end, choosing one over the other -- or choosing a different one altogether -- will depend on your particular requirements and circumstances. The challenge is in trying to predict where the HCM market is heading and what your needs will look like going forward. For that, your best bet is a crystal ball.
Dig Deeper on Oracle applications implementation and upgrades