News
Stay informed about the latest enterprise technology news and product updates.
Oracle Report Card: Web services, BI, XML high priorities
Web services, rising in popularity quicker than you can say SOAP, topped the list of future technology priorities for SearchDatabase.com Oracle Report Card respondents.
Web services, rising in popularity quicker than you can say SOAP, topped the list of future technology priorities for SearchDatabase.com Oracle Report Card respondents.
The exclusive survey of 500 Oracle professionals asked them to rate emerging technologies in terms of their potential usefulness. Representing a trend that has been prevalent in the IT industry this year, Web services technology was voted most potentially useful.
Oracle recently took the baton in the race for Web services standards, asking the World Wide Web Consortium to decide upon a standard language for defining how to combine various Web services. Having such a standard would prevent competing specifications from slowing down the adoption of these emerging technologies.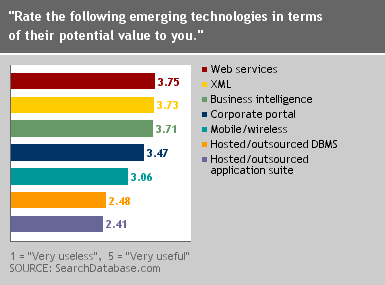 Nearly 60% of those surveyed rated Web services as potentially "useful" or "very useful" to them. Next in terms of usefulness were business intelligence and XML. Outsourcing the application suite and DBMS, along with wireless technologies, landed at the bottom of the list, while corporate portals were squarely in the middle.
In follow-up interviews, users offered compliments, and some complaints, on a wide range of Oracle technology that they have sampled. Washington, D.C.-based consultant Troy Connor had this to say about the Web services industry: "It has not shaken out yet. There are a lot of crackpots out there still trying to define things."
Connor added: "What would be nice to see from Oracle is Web services that are interoperable with other vendors' products, such as WebLogic. That won't happen, though, since Oracle is doing everything they can to beat WebLogic with their own (mediocre) application server product, 9iAS."
Connor, like several respondents, said that he thinks Oracle is ahead of the pack when it comes to XML, the language that 52% of Oracle Report Card users said they viewed as potentially useful or very useful, placing it third.
Business intelligence, which 56% rated above average in usefulness, placing it second, is the fastest growing market for Oracle's database products, said Robert Shimp, vice president of database marketing for Oracle.
"The main reason is that the cost of doing BI has been dropping dramatically over the last two years," Shimp said.
"Traditionally, building a BI solution would take you 18 months or more, and it would cost you millions of dollars. Now that has been greatly simplified," said Shimp, referring to the OLAP tools and Advanced Analytics feature available in Oracle 9i Enterprise Edition.
With the 9i release also came RAC (Real Application Clusters) technology, the source for Oracle's "unbreakable" claims. So far, many Oracle Report Card respondents have apparently left it untested. Almost 22% of survey respondents said that they are still evaluating RAC technology, while 12% consider it too expensive and nearly 19% have already determined they have no need for it.
Some of the suggestions solicited from survey takers included improving RMAN, Oracle's backup utility, described as cryptic and inconvenient by one survey taker, a database administrator writing from Canada. A better interface for DBAs between Statspack and the OEM product is needed, said another respondent, a consultant in Australia. From New York City, George Shaw, DBA for the city's transit authority, wrote: "Oracle requires the use of third-party tools in some cases. On NT, 11i requires the use of the MKS tool kit to make your NT server look like a Unix box. Oracle requires this but does not support it."
Any database professional has likely heard the rap on Oracle technology: It's terrific, but tougher to administer and tune than, say, Microsoft's SQL Server or IBM's DB2.
Some of the Report Card respondents did view Oracle's complexity as a drawback. Ravi Viswanathan, a DBA at Yamaha Motor Corp. in Cypress, Calif., said: "They should make their products simpler to install and configure."
A huge Oracle fan, Don Burleson, who heads Kittrell, N.C.-based Burleson Oracle Consulting and is the author of 14 books on Oracle technology, sees Oracle's renowned complexity differently.
"I think a lot of the dissatisfaction is a function [of] the lack of knowledge on the part of the customers," Burleson said. "There is a misconception that Oracle is as easy to use as some of its competitors. And consequently you will have a lot of people buy Oracle and not be aware that it will take six to eight weeks of full-time training."
Rich Niemiec, president of the International Oracle Users Group (IOUG) and the CEO of Lombard, Ill.-based TUSC, a leading Oracle consultancy, said: "Since you can build more with Oracle than you can with others, it tends to draw a more advanced developer and/or DBA who is interested in using the best tools and interested in truly building greatness."
FOR MORE INFORMATION
Index to all stories in the Oracle Report Card
Contact authors Ellen O'Brien and Tim DiChiara with your feedback.