News
Stay informed about the latest enterprise technology news and product updates.
Oracle Report Card: Oracle still too pricey
Despite its successful sales history, there is no denying that Oracle has an image problem when it comes to cost, according to a SearchDatabase.com survey or Oracle users.
IT manager Julie Harris represented the opinion of hundreds of those surveyed for SearchDatabase.com's exclusive Oracle Report Card when she declared: "No doubt about it. Oracle's technology is top shelf. But they need to work on value vs. price. Some of their competitors are putting out pretty reliable products, too."
Harris, who heads a team at South Australia's Department for Transport, Urban Planning and the Arts, in Adelaide, was among 500 Oracle users who recently completed a comprehensive survey on Oracle customer satisfaction.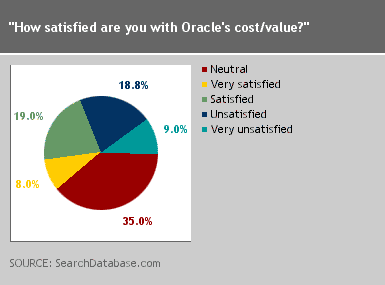 Of all the criteria measured, cost was rated most poorly, with an average satisfaction rating of 3 on a scale of 1 (least satisfied) to 5 (most satisfied). Almost 28% rated their level of satisfaction below 3.
When users were asked whether they agreed that Oracle products offered good value for their price, nearly 14% delivered an emphatic "No," saying they "strongly disagreed" with that statement. On the other hand, 24% said they "strongly agreed" that the value of Oracle products is commensurate with the price. More than half — 56% of voters — were apparently lukewarm on the notion, choosing to remain neutral.
This might be one of the reasons that 26% of survey respondents said that they are more serious about investigating Oracle alternatives this year than they were last year. Despite its successful sales history, there is no denying that Oracle has an image problem when it comes to cost.
Oracle says that is unfair, that some complaints about its user contracts stem from misunderstandings by customers and analysts, and that if some sales reps mistakenly encouraged clients to switch from named user to pricier, per-processor licenses purely for profits, then they acted without encouragement from the top.
Still, two well-known research companies, Meta Group and Gartner Research, this year published reports criticizing Oracle for having inappropriately imposed extra licensing fees on some database customers. Last year, Oracle dropped its unique Universal Power Unit (UPU) pricing plan, which was considered convoluted by critics.
Last month, the company reached out to customers with a comprehensive, 40-page online document, the Software Investment Guide, detailing its new licensing options. A reputation is a tough thing to change, however, and the bottom line is that Oracle is considered as pricey as it is popular.
The SearchDatabase.com survey results arrived just as Oracle's Q1 figures were released, showing that the company's profits dropped 33% when compared with the same period last year, and that sales sunk for the sixth quarter in a row. Businesses are putting the brakes on pricey technology products and Oracle, with its Cadillac prices, is suffering despite its reputation for high-quality offerings.
Brian Peasland, a SearchDatabase.com site expert and an Oracle DBA, believes Oracle customers are intimidated by the first-class price tag on the Enterprise Edition.
"Most people don't need all of the features that the Oracle Enterprise Edition provides," Peasland pointed out. "Rather, those customers should be choosing Oracle Standard Edition. SE is identical to EE, except that EE provides some nicer features. And most of those features are rarely used, even by those who buy the EE product.
"If customers would start purchasing the SE version, they would save themselves tons of money."
Troy Connor, one of the 24 Oracle Report Card survey takers who identified himself as a consultant, works independently in Washington, D.C. In more than 20 years, Connor has not witnessed a client abandon Oracle based on cost — but he thinks it's becoming more of a possibility.
"I've never seen anyone leave Oracle (the DBMS product line, anyway) for another vendor," Connor said. "We'll probably start seeing that in the future, though, as DB2 and PostgreSQL can finally compete with Oracle."
FOR MORE INFORMATION
Index to all stories in the Oracle Report Card
Contact authors Ellen O'Brien and Sara Cushman with your feedback.
Dig Deeper on Oracle competitors and market analysis