News
Stay informed about the latest enterprise technology news and product updates.
Oracle Report Card: DB software sails, cost fails
The results of an exclusive SearchDatabase.com survey of 500 database professionals show that Oracle still struggles against the perception that it is too pricey but that customers are largely satisfied with its products and technology.
Seen as cocky, controversial and too costly by some, Oracle has its share of critics. The results of an exclusive SearchDatabase.com survey showed that the software giant still struggles against the perception that it is too pricey but that customers are largely satisfied with its products and technology.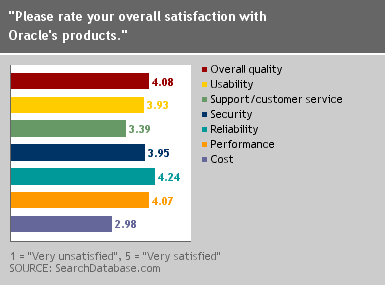 The Oracle Report Card, a survey of 500 database professionals conducted in August, yielded very high marks in user satisfaction with Oracle's quality, usability, reliability and performance but less satisfaction with its support services and sales force. It also revealed that many customers are not convinced that Oracle products are worth a premium price, and some are turning their attention toward the company's competitors.
The survey measured user attitudes toward Oracle technology and customer relations. More than half of those surveyed identified themselves as database administrators, with the remaining voters including senior IT and project managers, development staff and consultants, and others. The respondents represent industries such as computer technology, manufacturing, education, government, banking and health care.
It was Oracle's cost that drew the most negative responses. On a scale from 1 (least satisfied) to 5 (most satisfied), users gave Oracle an average rating of 3. A full 28% rated their level of satisfaction below 3.
"In this industry, people in general tend to bitch," mused Mike Schiff, vice president of e-business and business intelligence at Sterling, Va.-based Current Analysis, referring to the low ratings users gave Oracle when it came to cost.
The survey also revealed that a significant number of Oracle users are considering going with other vendors. Almost 26% of survey participants admitted that they were looking more seriously than they were a year ago at alternatives to Oracle.
"IBM is making lot of noise now, about how it's the database king," Schiff said. "I expect that's causing people to look twice.
"The real proof is in the retention rate. People stay with it. They complain about the cost, but they stay with it. A low-cost database that doesn't solve your problems is useless."
Survey participants apparently agreed. A vast majority ranked Oracle as above average in overall quality, with 32% putting Oracle quality in the highest possible category. Another 49% chose the category just below that, still above average.
A whopping 91% reported above average satisfaction in the category of usability. Reliability, which 42% of our sample said was the most important factor to them when considering a data management product, also received high ratings: 83% of users said that they were satisfied or very satisfied.
Users unhappy with pricing, licensing
A competitive intelligence report that Schiff authored on Oracle 9i was mostly positive, and he called Oracle the real king of the database world. However, Schiff said: "A lot of people aren't happy that 9i's RAC (Real Application Clusters) technology and the OLAP option cost extra: 50% of the primary."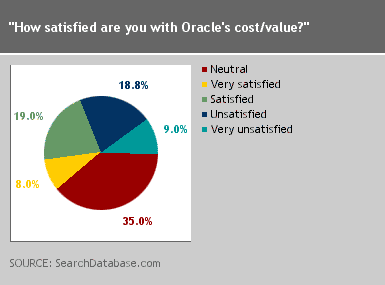 "There has been a growing sense [of] dissatisfaction with Oracle's pricing policies and the packaging, which is fairly rigid," opined Carl Olofson, program director and primary database analyst at Framingham, Mass.-based International Data Corp.
"Basically, if you want any of the high-end features, for the most part you have to buy all of them, and it comes at a high price."
Those high prices, of course, are not a good fit for IT budgets that have grown lean in recent years. Half of survey respondents said that they did not plan to increase their spending on Oracle products in the next 12 months. Nearly 13% said that they expected to decrease their number of designated Oracle dollars.
DBA Julio Duarte, who works in Guatemala City, explained: "Our budget is very tight right now. But also Oracle prices are high, and the licensing terms are very obscure."
Duarte was referring to the ongoing complaints that Oracle's licensing strategy is convoluted and confusing. Oracle recently made its new pricing strategy available online and promised that its licensing options are now more in step with the rest of the industry.
Respondents find fault with sales, support
When it comes to interacting with its customers and supporting its products, survey respondents said that there is room for Oracle to improve.
After cost, Oracle's sales force and customer support were the most poorly rated criteria. Only 11% of survey takers disagreed with the statement "Oracle's sales force is too aggressive." Some elaborated, saying the Oracle sales force is typical for a big vendor, and were careful to say that they evaluated the sales force separately from Oracle's consulting division, which was the recipient of much unsolicited unfavorable commentary.
Oracle customer support fared better than the sales force, with 42% staying neutral, and more saying they were very satisfied than very dissatisfied: 27% versus 12%. However, several offered anecdotes of having to lobby hard to get the attention they felt they deserved.
"The Melbourne (Australia) support center was in a mess," recalled Geoff Heaton, a technical consultant at ING Australia. "I, along with other DBAs, encountered a poor response to critical problems. I had to escalate the issue in the chain of command to the CEO of Asia-Pacifica to get a result, and that is poor." However, Heaton is happier now: "Oracle has addressed this issue, and I have not had a re-occurrence."
DBA Ravi Viswanathan, who works with Oracle products at Yamaha Motor Corp. in Cypress, Calif., wrote: "On many occasions, Oracle tried to sell us more than what we actually needed. They do not seem to appreciate a customer's requirements." But he rated favorably the support he has received from Oracle, saying it surpassed IBM's service, in his view.
Troy Connor, a Washington, D.C.-based independent consultant, warned: "Buying services from Oracle is risky. If you are an important customer and know how to deal with vendors, you can get the A team. If not, Oracle will try the Z team on you, and see whether you notice."
The survey also revealed that a year of messy public relations, including a government contract scandal in California, had absolutely no impact on users' opinions. Nor did the survey takers seem to care about reports that IBM's DB2 might be eating into Oracle's market share, or about Oracle CEO Larry Ellison's vehement denouncements of that data.
"That's a fairly typical year for Oracle," Connor said. "Most people buy Oracle because of superior engineering, not brand awareness. Obviously, it's not the price."
FOR MORE INFORMATION
Index to all stories in the Oracle Report Card
What do you think of Oracle? What about our survey results? Contact authors Ellen O'Brien and Tim DiChiara with your feedback.
Dig Deeper on Oracle on Linux