DXfoto.com - Fotolia
Oracle Enterprise Manager 12c R5 focuses on the hybrid cloud
Release 5 of Oracle Enterprise Manager 12c adds new features for managing hybrid cloud environments. Oracle hopes OEM 12c R5 will help interest large companies in using the cloud.
This week, Oracle announced a new Release 5 version of Oracle Enterprise Manager 12c, its suite of management tools. The most important thing to keep in mind with OEM 12c R5 is its support for hybrid cloud environments, according to Dan Koloski, senior director of product management for Oracle Enterprise Manager. He said new features and improvements related to managing hybrid clouds are the biggest difference between R5 and previous versions.
That means, first and foremost, being able to manage hybrid cloud data like it's on-premises data with exactly the same experience as working in on-premises systems. "The only way you know it is different," Koloski said, "is the cloud symbol in the [user interface]." It also means factors like monitoring templates, lifecycle management processes and patching, tuning, configuration and compliance measures applied on-premises can also be applied in the cloud. "All of our on-premises capabilities can be applied out of the box to the cloud," he said.
Oracle Enterprise Manager 12c R5 also has several other new cloud features. One allows users to move environments back and forth between on-premises systems and the cloud. That means applications built on-premises can be moved to the cloud and vice versa, using the same three-step wizard. In addition, everything on-premises and in the cloud can be viewed using the same OEM 12c interface and looked at as one continuous whole rather than two pieces.
Another new feature is the Hybrid Cloud Gateway, which brokers the connections between a company's databases and the Oracle cloud. The gateway allows customers to connect their on-premises OEM installations to Oracle's cloud platform and encrypt communications back and forth without having to open up their networks and risk man in the middle attacks by hackers.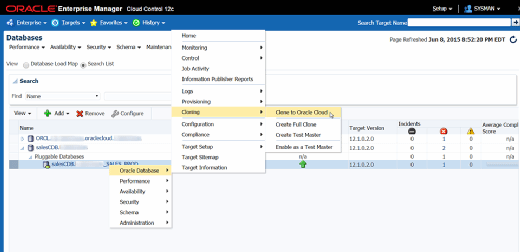 The most notable non cloud-related feature in OEM 12c R5 is the addition of snapcloning capabilities to Oracle's Exadata system optimized for on-premises installations of the database appliance. Oracle's Snap Clone technology lets database administrators make clone copies of portions of databases for use in functional testing processes, such as quality assurance or user acceptance tests.
All of our on-premises capabilities can be applied out-of-the-box to the cloud.

Dan Koloskisenior director of product management for OEM, Oracle
But with only one major new feature that isn't related to managing a hybrid cloud infrastructure, it's clear that this version of Oracle Enterprise Manager 12c has a theme. According to Koloski, the hybrid cloud is important to Oracle because its customers are frequently large companies. Typically, they already have on-premises OEM installations and personnel with the expertise to use them. Those companies don't want to have to retrain employees for the cloud, Koloski said, adding that OEM 12c R5's hybrid cloud management capabilities will allow "100% reuse of their existing skills."
Furthermore, Koloski said, one of the reasons why many big companies aren't yet willing to step into the cloud is a lack of configuration and compliance management functionality. Companies that have large database footprints need to maintain internal standards and meet regulatory compliance requirements across all of their systems, he noted. The goal of Oracle Enterprise Manager 12c R5, he said, is to give such companies access to the cloud in a way that enables them to do so.
Jessica Sirkin is associate site editor of SearchOracle. Email her at [email protected] and follow us on Twitter: @SearchOracle.
Next Steps
Revisit Oracle Enterprise Manager 12c R4 and its take on cloud strategy
Hear about how Oracle's cloud focus took center stage at Collaborate 15