News
Stay informed about the latest enterprise technology news and product updates.
Will Oracle now hike support costs for Itanium customers?
In a recent survey of 450 IT pros, 95% of them Oracle customers, nearly two-thirds said Oracle will now jack up support costs for Itanium customers now that it will no longer support development for the platform.
Gabriel Consulting Group survey on Oracle and Itanium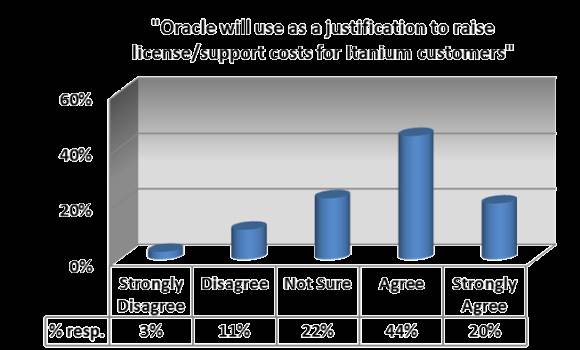 (click for full size)
Almost two out of three respondents see Oracle's desire to raise license/support costs for Itanium customers as a motivating factor.
When an ISV app supports an important or mission-critical workload, it puts the customer at the mercy of the vendor - at least in the short term. The workload can't simply be moved to another application; the risk of disruption is too great. Customers believe that Oracle will raise prices in order to take advantage of this situation.
Dig Deeper on Oracle support services