News
Stay informed about the latest enterprise technology news and product updates.
Is Oracle looking to kill HP-UX and HP NonStop?
A recent survey of 450 IT users, almost 95% of them Oracle customers, largely agree that Oracle's announcement to drop development for Intel Itanium was a shot across the bow of HP, one of its main competitors.
Gabriel Consulting Group survey on Oracle and Itanium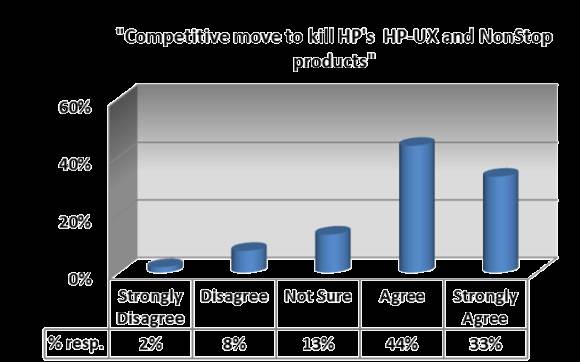 (click for full size)
A massive 77% of survey respondents say Oracle dropped development support of Itanium to kill HP's Itanium server product lines. The rationale: If Oracle software isn't available on these systems, the workloads would naturally migrate to Oracle's Solaris Unix variant.
This isn't unprecedented. In the '90s, several Unix vendors gave up on the business when Oracle either withdrew support or made them second-tier ports. However, it's a vastly different world today, and customers have many more options.
Dig Deeper on Oracle server hardware decisions