News
Stay informed about the latest enterprise technology news and product updates.
Has the phrase Oracle Support become an oxymoron?
Recent surveys have found that dissatisfaction with Oracle Support is high compared with competitors. Why? And what can you do to get the Oracle support you need?
Andrew Kerber has seen a decline in the quality of Oracle Support, best exemplified by a recent service request.
Kerber, senior database administrator at an e-commerce company, was getting core dumps on Oracle Database 10.2.0.4 last month, causing an in-house application to be down. He opened a service request (SR) with Oracle Support and uploaded the associated trace file. My Oracle Support responded, asking him what was in the alert log. Kerber said there is nothing in the alert log that isn't in the trace file, but he still updated the SR and waited.
And waited.
And waited. It was a Severity 2 service request -- the second highest of four severity levels -- and it took two days to get resolved.
"It's almost a crapshoot whether you get anyone at Oracle Support who knows what's going on," Kerber said.
Interviews with almost a dozen end users and consultants, along with recent user surveys, have found that Oracle Support isn't what it used to be. Service requests languish for days -- or sometimes forever -- unless there's a follow-up call or you've got inside connections with Oracle. In other cases, users say Oracle Support will respond, but the advice isn't helpful.
Oracle did not respond to requests for comment.
Recent reader surveys show discontent with Oracle Support
A survey last year of 109 Oracle application customers, taken by Irvine, Calif.-based Computer Economics, an IT research and advisory firm, found that 42% were unhappy with the quality of Oracle Support, while 58% were dissatisfied with the cost.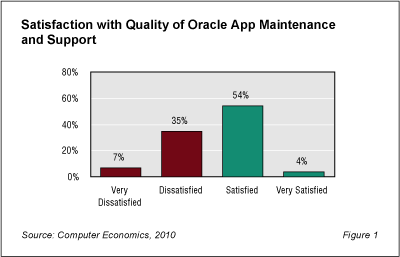 Similarly, Concord, Mass.-based Information Technology Intelligence Consulting polled 468 businesses and found that Oracle Support ranked behind the support quality of competitors such as IBM, Hewlett-Packard Co. and Microsoft.
So why are Oracle customers unhappy with support? It seems to be three major reasons:
Response time
Quality of support
My Oracle Support user interface
Kerber's story was an example of the first problem of response time. Another Oracle customer, an IT exec at a big New York-based bank, said his company pays for Premier Support and still has issues with it. He often has to escalate issues to senior Oracle executives to get a response.
"And we have to manage the process and have account reviews," the IT exec said. "It's ridiculous."
Joseph Reid, president of Ontario-based Oracle consulting firm Braintree Group, recalled one customer paying hundreds of thousands of dollars in support who had 71 service requests in the queue, unresolved.
"So they start thinking, 'What am I paying for?'" Reid said.
Other Oracle customers told similar stories of not getting prompt responses on their Severity 1 and 2 service requests, and always having to call to escalate the problem. Another said his company pays more than a million dollars every year in support costs to Oracle but gets better support quality and cheaper cost from Sybase and Microsoft SQL Server.
All I'm interested in are the core database products, yet every time I have to filter my way down through umpteen layers of app products, financials and human resources stuff.

Bill Ferguson, senior DBA at a government agency
Another issue is support quality. Kerber has had to update SRs to get support even when nothing changed with the problem, for example. He added that he now tries to open an SR at certain times of the day, because he thinks Oracle Support techs working during one particular time period are more competent than during another. Kerber has more confidence in support staff in Australia than those in India and tries to submit requests when he thinks they will answer. He added that when he does get support techs from India on the phone, it seems like they are reading from a script and not willing to deviate from it at all.
Finally, some Oracle customers don't like the user interface of the My Oracle Support portal. Bill Ferguson, senior DBA at a government agency, said the Flash-based interface -- teamed with the cornucopia of database and application support options users now have on the site -- make it clunky and difficult to navigate.
"I couldn't care less about all the various apps packages Oracle has," he said. "All I'm interested in are the core database products, yet every time I have to filter my way down through umpteen layers of app products, financials and human resources stuff."
Ferguson thinks that Oracle has acquired so many companies -- and taken on the task of providing support for all of their applications -- that it has stretched Oracle Support thin. As a result, quality and timeliness of support drops.
Reid agrees.
"They're focusing on all the new stuff, they're focusing on applications and Sun," he said. "I think Oracle is putting all their applications in the forefront now. The database is secondary."
Oracle Support dissatisfaction not leading to defection
Despite problems, Oracle customers' unhappiness with support hasn't led to defections. Three-quarters of those polled in the Computer Economics survey said Oracle products will have the same or a larger share of their IT budget over the next three years.
There are reasons behind that, said Frank Scavo, president of Computer Economics. Most common is that the customer has standardized on Oracle products -- databases, applications and middleware. Scavo compared it to a healthy marriage between a husband and wife who fight occasionally but still feel committed to one another.
This leads to the second reason, that if an organization has standardized on Oracle products, it makes it more difficult to escape. Some customers are running Oracle Database as well as popular Oracle applications such as E-Business Suite, PeopleSoft and Siebel. Finding replacements for all three may seem like more of a burden than just sticking with what they have.
Finally, from a support perspective customers may feel like they don't have an alternative. Scavo said there are third-party Oracle support companies out there -- Rimini Street is one big name that comes up frequently -- but oftentimes those vendors are focused on supporting older versions of Oracle databases and applications. For those customers who have updated versions and want regular patches, going with Oracle Support feels like a necessary evil.
How to get the Oracle support you need
So there's a problem with Oracle Support. Filing a SR and then sitting around twiddling your thumbs and complaining about it isn't going to help, is it? So what can you do to get solutions to your problems?
You can escalate the service request. There are four severity levels when filing an SR, with 1 being the most severe. Some customers say they don't even bother filing an SR with a severity level of 3 or 4 because they don't get responses. Others might file an SR with a lower severity level, but then update the request later and increase the severity level. Anything to get Oracle Support's attention.
You can call somebody. Just trying to deal with the online user interface of My Oracle Support might not be enough. Picking up the phone and calling support could get you talking to a human being who may be able to quicken the resolution to your problem. One customer, however, said he actually calls the nontechnical support line, because calling Oracle Support often leads to a lot of waiting on hold.
Finally, you can make connections within the company. Get the business cards of all Oracle people that you meet -- technical, sales, whatever -- and pull strings when you have a problem that's not being solved.
One Oracle consultant who wouldn't speak on the record because of company policies regarding speaking to the press wrote in an online forum that Oracle customers should try to avoid getting angry if an SR isn't getting a response, and instead go through procedures to fix it: Escalate it to the duty manager, change the analyst and escalate the severity level. If the problem still isn't being solved, call sales reps, describe the problem and explain how it might impact their bottom line the next time they try to sell you something more.
The consultant added that customers should socialize with Oracle employees as possible. Get to know as many as possible, and that could help you down the road.
Some end users, however, don't think they should have to schmooze with the vendor to get a problem solved that they're paying millions of dollars to have solved.
Senior News Director Barbara Darrow contributed to this report. Email Editor Mark Fontecchio with any comments or questions.