News
Stay informed about the latest enterprise technology news and product updates.
Part 2: Maintaining your place in the race -- ERP project management
Get tips on ERP project management for an R12 implementation, including ERP organization and staffing, in this second installment of a three-part series on ERP project success.
Table of contents:

Revving your engines: Tuning up your ERP project plan


Part 2: Maintaining your place in the race -- ERP project management


Part 3: The final ERP transition: Crossing the finish line successfully
---------------------------------------------------------------------------------------------------------------------
In Part 1 of this series, we identified critical factors for the initial planning, or "tune-up," of your ERP project. This section on ERP project management explains how to keep your ERP project ahead of the pack – that is, on target and on budget. The diagram below illustrates how all tasks and activities should contribute to advancing the enterprise business goals and objectives.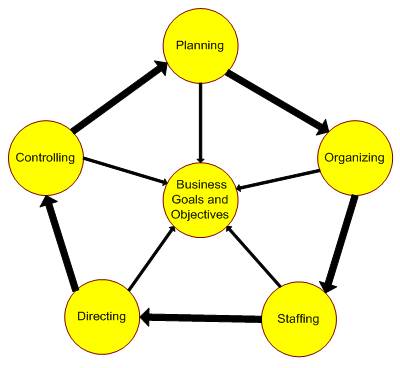 To keep the ERP project on track, remember that these five areas relate to specific activities and interact. In keeping with our race car analogy used in Part 1, if the car's tires are worn, the likelihood of a blowout occurring increases dramatically. Project examples abound: An overburdened team becomes sensitive to conflicting needs, and the contention for resources increases. Similarly, stakeholders not kept apprised of ERP project advances may become alarmed, frustrated and potentially disillusioned, which communicates quickly to customers, users and staff. Careful steps along with honest and frequent communications with stakeholders at all levels will ease necessary changes and prevent the team car from being disqualified from the race.
ERP project planning and development: The ERP project planning and development activities are all those actions that contribute to completion of project deliverables. A series of workshops will be held to assist the project staff in developing a detailed understanding of customer requirements by working with subject matter experts (SMEs). These will include an understanding and recording of the "AS-IS" processes, workflows, and particular "pain points" to be addressed. The project staff will use these and their knowledge of R12 functionality to develop "TO-BE" diagrams and workflows. The "AS-IS" and "TO-BE" processes and workflows together form the basis for delivering a detailed Map and Gap analysis to the customer's SMEs and stakeholders for review, discussion and approval.
Two example documents are available. First, a Best Practice Assessment, which addresses the list of "pain-points" identified during workshops. This information will also show in the Gap Analysis. Having a separate document allows you to show customers how you are addressing their specific problems outside the context of the standard implementation documentation. Second, a Gap Analysis Worksheet identifies the set of AS-IS and TO-BE processes, compares the R12 change or enhancement, and identifies any potential gaps. This shows the depth of understanding of the customers' processes and how they will be accomplished in R12.
The customer SMEs are asked to give examples of reports they use regularly, specifically reports that have been customized. The ERP project team should understand that customers have an entirely different view of what is customized. In addition, the customer reports development team may not have recorded all the changes they made. Commonly, the reports teams and the data mapping/conversion teams are the same staff, with multiple roles. So depending on the size of the ERP project, management may choose to impose priorities for completion of specific reports, based on perceived importance and application. See the attached Report Conversion Table to identify and help prioritize reports.
During an R12 implementation or upgrade, there will be considerable effort in data conversion and/or data mapping activities. While third-party tools are available from a number of reputable vendors, you will still need to work on data cleansing, archiving history, and so on. Even when third-party tools are used, there are critical tasks that must be addressed: Does the customer have a handle on data sources? Is the customer aware of data dependencies?
The example Data Conversion Readiness Checklist provides critical questions and metrics to be considered in scoping and understanding the effort. For each application, a list of data conversions should be determined. The Data Conversions Applications Overview example provides a sample format. Note that for each application, (GL, AP, INV, etc.) a Data Conversion Plan will be created. The Data Conversion Plan for an application should address each of the sections in the Data Conversion Plan Outline. The Data Conversion Requirements table details specific applications, sequences and examples of data that will need to be addressed.
During these efforts, especially in the setup and development of R12 processes, risks and issues will arise. These must be recorded in the risk and issue logs as well as in weekly status meetings or reports. This simple, anticipatory step will save time, money and frustration while ensuring that the project staff can focus on the task rather than seeking independent and potentially unsatisfactory solutions.
ERP project organization: Now let's take a look at the importance of a systematic approach to implementation. ERP project organization includes having – and, as far as possible, adhering to -- the project WBS, Milestones and Standards. Monitoring scheduled achievements and milestones and making sure that deliverables are timely and accurate and meet the customer's expectations helps build customer buy-in and trust. Good financial management, manifested in effective management of personnel levels and making sure that financial reporting and invoicing is timely, accurate and easily reviewed, also builds stakeholder support. These steps enhance management of customer expectations, resulting in successful delivery of your project.
The effective use of project technical infrastructure supports the ability to deliver products and documents on time and consistently. This includes collaboration tools, document and knowledge sharing, as well as the ERP environment(s). Collaboration tools enhance the ability of team members to share ideas, documents and, often, schedules. A virtual meeting capability should be provided or, at a minimum, a standard tool agreed upon.
From a practical standpoint, the project team requires sufficient development, training and testing environments. Having been on projects where the development instance or test instance were not accessible by project staff, there is nothing more frustrating than knowing what needs to be done but having to rely on remote sources to perform setups or testing. A delicate balance of configuration management, change control and development progress must be struck. Your task is to make them work together effectively. (Of course, you did outline standards and agreements in your ERP project plan.)
Staffing your ERP project: Maintaining a healthy team environment is crucial for a smooth-running project. Some of the most effective leaders have been heard to say: "Take care of your people, and they'll take care of the project." However, there are probably few areas that generate more opinions than management of project personnel. As project teams show increased diversity in culture as well as management styles, the potential for conflict increases. Conflict is not necessarily bad if properly managed. It can lead to optimizing project challenges and stimulating personnel growth. Promoting a collaborative environment in which the ERP staff accepts conflict, uses discussion and has a goal-driven focus can be quite effective.
Directing your ERP project: Direction of the ERP project is based on the results of the ongoing analysis of ERP projects results. Using RACI (Responsible, Accountable, Consulted, Informed) charts for major tasks helps ensure that all team members can be reasonably self-directed and helps ensure that project teams are proceeding and maintaining communication effectively. Directing also includes reviewing the risk and issue log with the project team, resolving or mitigating risk, and escalating issue resolution to higher levels where necessary. Where issues involve cost or scheduling, collaborate with the Steering Committee regarding project accomplishment and direction. A Risk Mitigation Plan Checklist has been provided to identify potential methods for handling typical ERP project problems.
Controlling your ERP project for user and stakeholder expectations: The most important aspect of project control is managing user and stakeholder expectations. Many of the steps previously identified provide crucial information regarding the health and progress of the ERP project. Specific change control tools or processes will vary according to customer environment, culture and, sometimes, budget. If the organization does not have effective change control, you must obtain agreement on change policies and procedures to be used. Clear change control procedures will help to maintain scope and minimize scope creep. Because an ERP implementation includes organizational change as well as software/hardware control, additional effort may be needed to obtain functional user buy-in, beyond training and testing.
Planning, organizing, staffing, directing and controlling ERP projects requires constant monitoring of project results and clear communication with project staff, users and stakeholders. The best manager I knew would "touch base" with each lead regularly, saying, "What can I do for you today?" The question was designed to make project staff comfortable discussing issues, in a collaborative manner; the result was often to clarify direction.
About the author: Carol Francum has more than 20 years of global experience in IT, including quality and systems engineering, project management, and ERP business consulting. As a business analyst, she synchronizes and aligns applications and technology to meet customer needs. Carol has recently been named Sales Director for Ashford Global IT, providing "The Best in IT Training", and specializing in ITIL, Security and other business training. Carol can be reached at carol@AshfordGlobalIT.com