News
Stay informed about the latest enterprise technology news and product updates.
Oracle unwraps Fusion Applications, new user support portal
Oracle closed out OpenWorld with chairman Larry Ellison debuting its long-awaited Fusion Applications Suite along with a new portal anchored by its Enterprise Manager.
Looking to close Oracle's OpenWorld conference with a bang, CEO Larry Ellison finally pulled back the curtain on the company's long-awaited suite of Software as a Service (SaaS)-enabled Fusion Applications and introduced an ambitious new support portal to help its users with similar configurations fix and prevent technical problems.
Expected to be delivered sometime in 2010, Ellison assured thousands of conference attendees that the new suite of applications will not replace any of the applications in any Oracle products such as E-Business Suite, PeopleSoft and Siebel anytime soon. In fact, Oracle introduced new technology that allows users of those products to download only those Fusion Applications they want to mix and match.
"We understand users have enormous investments in things like E-Business, PeopleSoft and JD Edwards, and so we will continue to enhance those applications for the next decade," Ellison said. "I think we are big enough of a company to maintain software users have today and the software they will buy in the future. You will have a choice to move to the new applications when you want to."
The first version of the Fusion suite will include modules for financial management, human capital management, sales and marketing, supply chain management, project management, procurement management and governance, risk and compliance.
For more on Oracle and Fusion Applications
Get all the news from Oracle OpenWorld in our Special Report

Look back on the last time Ellison announced the first set of Fusion Applications
The new applications will have a major advantage over those of competitors, Ellison said, referring to built-in technology that helps Oracle monitor and ensure guaranteed service levels.
"Fusion Apps are built to be SaaS- or cloud-ready so we are committing to their service level, which means we have to have a way to monitor their performance to make sure we are delivering the promised level of performance," Ellison said.
During the demonstration, Oracle showed off Enterprise Manager dashboards that are being designed so admins can more easily monitor and manage all aspects of Fusion Applications. The dashboards will aid in end-to-end application performance management from user experiences down to the infrastructure management level without requiring multiple tools or manual setup.
Admins will also be able to monitor important business indicators and then automatically map them to IT components, thereby allowing them to be more responsive to changing business situations, Oracle said.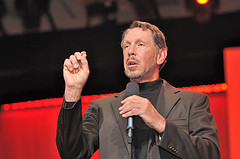 The new technical support portal combines the capabilities of an upcoming version of Oracle's Enterprise Manager with its support organization, which the company hopes will offer a unified support system for across the breadth of its vast user base.
The idea is to collect as much specific configuration information from users that will be poured into a "global database." When a specific user runs into a technical problem and needs to download a patch to fix it, Oracle can use its data-mining software to determine what patch would be appropriate for that user based on similar problems other users have experienced.
"We'll have a global database containing as much of our users' information as possible, so if people are having a specific problem we can let them know how to fix it and then notify all users with the same configuration to let them also know how to fix it," Ellison explained. "We think we can let people know about problems before they happen."
Oracle also plans to build in a set of capabilities to Enterprise Manager that allows it to automatically discover an application's topologies and the dependencies among a range of different physical and virtual components and infrastructure. With this sort of detection, Enterprise Manager can diagnose problems faster, Oracle officials said.
The upcoming Fusion Apps are based on Java, which will allow users to save money on customizing the suite, given there are thousands of third parties and support organizations that specialize in the language, Ellison noted.
He claimed that Fusion Apps is the first suite built hand-in-glove for a standards-based middleware suite, namely Oracle Fusion Middleware.
"No other applications, not Siebel, not JD Edwards, is built on standards-based middleware," Ellison said.
Ellison also showed off a new, slick-looking graphical user interface for the Fusion Apps that includes dragging and dropping features and functions more easily.
More than five years in the making and costing in the billions, Oracle built the Fusion Apps from scratch largely using a collection of Web 2.0 technologies. The upcoming suite is clearly aimed at yanking as much market share from its business software archrival, SAP.
Ellison even brought out California Gov. Arnold Schwarzenegger to add some star quality to the event. Schwarzenegger congratulated both Ellison and Sun co-founder Scott McNealy on the still-pending merger of their two companies, noting that the combined company has a total of 11,000 patents and -- something that is important to California, given its current economic plight -- employs 150,000 people worldwide.
The governor was duly impressed with the amount of brain power he was addressing.
"It is fantastic to be among all of these innovative entrepreneurs and innovators. I think my IQ shot up 10 points just walking across the stage," he said.
Dig Deeper on Oracle support services