Web 2.0 users, community and participation in the enterprise
In this chapter, learn Web 2.0 basics for the enterprise, including how to cater to your Web 2.0 users, foster a Web 2.0 community, encourage participation and more.
Reshaping Your Business with Web 2.0
Chapter 9: Putting Web 2.0 to Use in the Enterprise: Higher Value from Greater Participation
This chapter from Reshaping Your Business with Web 2.0 explains what Web 2.0 means for the enterprise and the basic principles of Web 2.0. In this section, learn how to cater to your Web 2.0 users, foster a Web 2.0 community, encourage participation and more.
Table of contents:

Web 2.0 users, community and participation in the enterprise


Enterprise search and links for Web 2.0


Enterprise Web 2.0 blogs, wikis and content management


Tips for Web 2.0 success and setting Web 2.0 goals in the enterprise


New Web 2.0 tools: Beyond the basics

Under its various guises, the Web 2.0 phenomenon has been at the forefront of mindshare in consumer application development and has embodied the revival of the World Wide Web as the ubiquitous computing platform, post bubble, for what qualifies in Internet terms as an eternity. Tim O'Reilly not only helped pioneer and define the Web 2.0 movement, but he also organized the first Web 2.0 conference back in 2004. Whether we focus on its enabling technologies or on its social characteristics and the participatory culture it encourages, Web 2.0 has been the pervasive driving force behind much of the innovation released online, in its trademark state of perpetual beta, since 2004. Yet for all its reach and omnipresence in the consumer space, the read-write Web, and with it all the benefits of rich user experience and social computing, Web 2.0 has been slow to mutate and make deep inroads in the enterprise.
Scale Matters
In venturing to weave key Web 2.0 elements into the cultural fabric of the workplace, we must acknowledge the qualitative differences between the corporate and public spheres, understand how these differences impact the distribution of tools and best practices, and be prepared with countermeasures to palliate the shortcomings of merely transposing from one environment to the other. Many of the pitfalls encountered when deploying Web 2.0 applications in the enterprise have to do with culture rather than technology. This is not to say that technical and architectural choices don't matter, and important traits to look for in that regard are covered in this chapter. But what is truly going to make or break the value proposition of a solution has to do with adoption. Why? Web 2.0 is all about The Long Tail—it's about participation, about the wisdom of the crowd. It's about harnessing the intelligence diffused throughout the network and bringing it into focus for everyone's benefit. As such, it needs a critical mass to take shape, and, just as important, it needs those forming that mass to become, as famous blogger Kathy Sierra coined it, "passionate users" (see References at the end of the book for source information).
Scale matters. We can't simply deploy the same tools and promote the same behaviors found in the wild and hope that they'll thrive in the scaled-down enterprise ecosystem. Given the typical rate with which people participate, that would pretty much exclude any but the largest corporations from getting anyone to blog, author a wiki article, or otherwise contribute. The transposition is imperfect at best across these two environments, and to survive behind the firewall, Web 2.0 needs to be even better at eliciting involvement. The virtuous feedback loop at play in the most effective contributory services starts with individuals extracting value from their own submissions. Their publicly sharing these contributions yields value to observers, who are then moved to participate, adding to the original contributor's value (see Figure 9-1). It's critical to tend to each step of this cycle as it translates into the workplace, to ensure that it goes on uninterrupted, allowing network effects to develop.
More on this book
This chapter is excerpted from the book, Reshaping Your Business with Web 2.0, authored by Vince Casarez, Billy Cripe, Jean Sini and Philipp Weckerle, published by McGraw-Hill Osborne Media, September, 2008. ISBN 0071600787.
Because enterprise Web 2.0 initiatives need not only match but must exceed, in terms of participation, the levels seen in the consumer space, we must take stock of the fundamental differences in motivation and barriers driving and limiting deployment and adoption to achieve critical mass. And when it comes to driving usage, at least some of the consumer web applications have catered to the thirst for entertainment manifest in the public: Whether watching and voting on popular YouTube videos, reading and commenting on friends' LiveJournal diaries, or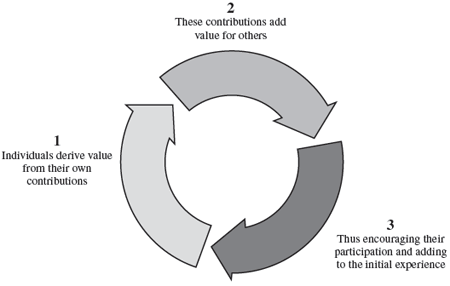 Figure 9-1: Contributory feedback loop
socializing on Facebook (see Figure 9-2), certain demographics use the Web to such an extent that it is practically displacing television as the primary source of entertainment (Figure 9-3). This does not mean that Web 2.0 should be reduced to a new form of entertainment or that it has no place at work: Instead, this is about setting realistic expectations and identifying alternative drivers.
This chapter elaborates on the importance of articulating clear goals, at the enterprise level, for any Web 2.0 initiative. But for success to take hold at the level of the individuals fueling the system, a few key factors must be addressed, and some fundamental fears must be assuaged.
Participatory Systems
How do we satisfy self-interest? Successful participatory systems need to reward contribution as, first and foremost, useful to the individual. Gains in productivity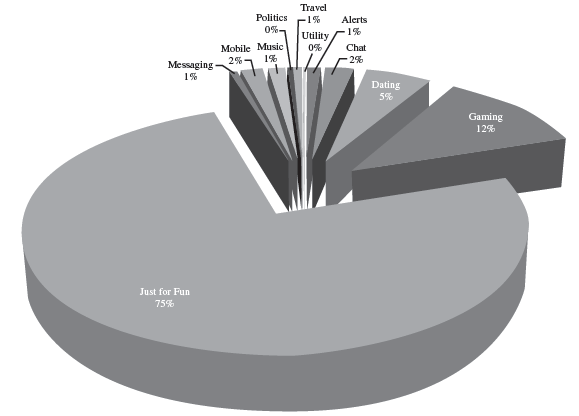 Figure 9-2: Consumers seeking entertainment value: Popularity of Facebook applications by category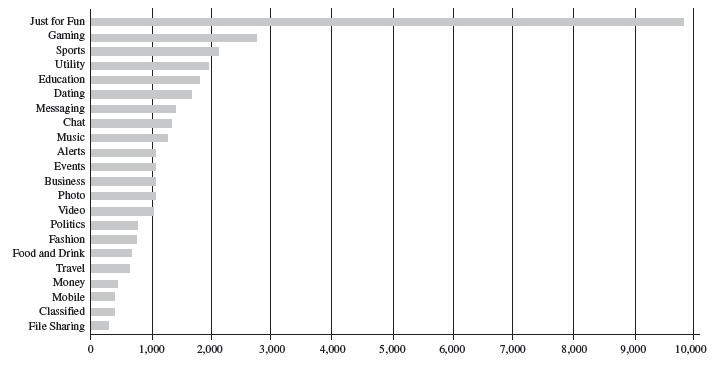 Figure 9-3: Consumers seeking entertainment: Number of Facebook applications
need to be made obvious, whether they stem from sharing information on a wiki page instead of sending e-mail messages to each employee, or revamping the system to identify more accurate expertise than indicated via traditional mailing lists. Companies can achieve great returns from rewarding their contributors by highlighting their participation. For instance, by featuring the most popular employee blog posts on the front page of the company's internal or customerfacing website, a corporation leverages its own footprint and visibility to create avenues and extend opportunities for individuals to attain exposure as a direct result of their contribution. Just as consumers on social networks engage in identity-building activities, employees can cultivate, through participation, expertise and credibility, a currency valuable both inside and outside the company. Given that hoarding information to achieve success within an organization, at the cost of much higher overall performance for the company and all its employees, still remains a widespread behavior, it is important that the company facilitate any mechanism likely to lead to the free flow of key knowledge.
Articulating and broadcasting incentives for all to participate in building these incentives into the corporate culture is crucial: As Nick Carr explains in a 2006 essay (see References), without detracting from the seemingly egalitarian dimension of contributions, the ultimate quality of what the beehive produces (whether a Wikipedia entry or an internal wiki) isn't merely determined by the quantity of contributors but by their quality, their level of competence. If only mediocre output is produced, the system will fail to gather momentum and interest. To put it simply, the company elite, the experts, must be on board and must be willing to spend cycles in the system.
Other barriers exist specific to the enterprise. Privacy, for one, is a key concern, given the amount of information typically floating around on social networks: The perception that a blog allows your employer to be aware of the intimate details of your thoughts and deeds might be too close for comfort. Conversely, the need to ensure the safety of data that may be deemed proprietary by the company is just as important. Earlier chapters talked about the blogging policies and guidelines implemented by companies to help employees supplement common sense when in doubt. With the variety of tools, channels, and modalities becoming vehicles for potentially sensitive information, it's important to decouple those guidelines from specific tools, to have medium-independent policies in place.
Download the chapter " Putting Web 2.0 to Use in the Enterprise: Higher Value from Greater Participation " in PDF form.
Continue to the next section: Enterprise search and links for Web 2.0

Dig Deeper on Oracle database administration