Manage
Learn to apply best practices and optimize your operations.
Ascending to the cloud with Oracle Enterprise Manager -- an excerpt
Check out this excerpt from Building and Managing a Cloud Using Oracle Enterprise Manager 12c by Madhup Gulati, Adeesh Fulay and Sudip Datta.
A cloud project, especially a private cloud project, may be considered either greenfield or brownfield. As a reminder, a greenfield project is one that involves new infrastructure, including, in some cases, a new data center. A brownfield project is one where existing assets are consolidated and transformed into a cloud. For the brownfield projects, it is important to discover existing assets (technology portfolio), make them manageable by Oracle Enterprise Manager 12c, and then baseline their performance for consolidation.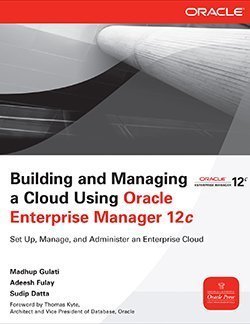 As part of planning for the cloud, the process of discovery and assessment looks for the software and hardware assets in the environment along with the relationships among them. Many companies do not have an accurate, current inventory of both their physical and virtual environments. As the first step to developing a plan for the new cloud environment, it is important to take a correct inventory of the current technology portfolio. Companies may choose to rationalize all the assets in their IT environment in one project, but this "boil the ocean" approach can introduce significant risks. A more practical approach is to develop a strategy that involves multiple projects, each focusing on rationalizing only the assets that support a horizontal or vertical "slice" of business functionality, and is aligned with a business goal or objective.
Rationalizing the technology portfolio involves two steps:
Tip
For easier transition to the cloud, select the part of the IT environment that is not organizationally or technically complex and where there is opportunity for short-term savings, via license or support savings. Near-term success and payback will help justify continued investment.
1. Capturing the existing technology portfolio. This can be done either manually, with spreadsheets, or with automated tools such as Oracle Enterprise Manager 12c. Typical information captured includes: asset name and description, owner, location, department, number of users, packaged/custom, hardware, operating system, and database.
2. Mapping the technology portfolio to the business capabilities. Once the inventory is complete, the organization must map the assets to either capabilities or business processes within the business architecture. This makes it easy to identify redundancies and gaps. Completing such an inventory and mapping exercise will usually reveal many overlapping and duplicate assets that are candidates for consolidation. When a recommendation for an asset is not obvious, a more detailed evaluation may be required.
Copyright info
Excerpted from Building and Managing a Cloud Using Oracle Enterprise Manager 12c by Madhup Gulati, Adeesh Fulay and Sudip Datta (Oracle Press; March 2013) with permission from Oracle Press. To read the entire chapter, please click here. Pre-order your copy of this book.
Oracle Enterprise Manager can be used to discover and collect information about datacenter assets either one time or on an ongoing basis. To do automatic host discovery, Oracle Enterprise Manager uses an agentless Nmap (Network Mapper) protocol. Nmap can discover hosts only for a subnet, so the process has to be repeated for every subnet. For each subnet, Nmap is executed as a job from one host where the agent is already deployed. Figure 2-1 shows the process of automatic discovery.
In automatic host discovery, a single Oracle Enterprise Manager Agent is tasked to scan the entire network based on IP address ranges that the administrator specifies. It then returns a list of "unmanaged" host machines -- that is, host machines that do not yet have the Oracle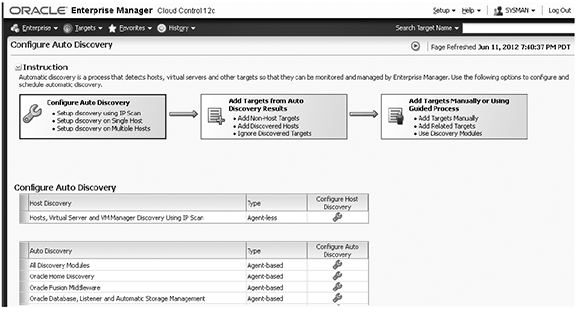 Figure 2-1. Automatic discovery in Oracle Enterprise Manager.
Enterprise Manager Agent installed -- with a list of ports in use that match the ranges specified. The name of the service using each port is also returned.
By looking at the list of services and ports, an administrator should be able to determine what types of Oracle components have been discovered. For example, if a host is returned with port 7001 in use, the administrator can reasonably assume that this port is associated with an Oracle WebLogic Server domain that can be promoted to managed target status. Similarly, a host returned with port 1521 in use would indicate a database server.
The next step is to deploy Oracle Enterprise Manager Agents to the hosts if the administrator wants to promote the host to a managed status. The Agent Push application is integrated with the discovery flow, so that the agent is pushed into the hosts. Once an Oracle Enterprise Manager Agent is deployed to the host, any Oracle components running on the host will be discovered and reported as potential targets. These components can then be promoted to managed target status, enabling them to be managed and monitored by Oracle Enterprise Manager Cloud Control 12c.
To be most effective, automatic discovery should ideally be run by a network administrator with an overall understanding of which Oracle components are running on which ports.
Let's now look at the deep discovery process that takes place once the Oracle Enterprise Manager Agent is placed on the host. The discovery process is automated, cataloging all the elements in your data center and the dependencies that exist between systems. The dependencies are particularly important when planning for the cloud, as failures can occur when interdependencies are not properly configured, both in the cloud and across cloud/physical lines. Supported asset types include:
Servers, storage, and network (hosts and virtual machines, for example)
Databases (a database instance, for example)
Groups, systems, and services (a database system, for example)
Middleware (application deployments, WebLogic Servers, and WebLogic Domains, for example)
Business applications (such as Oracle Fusion Applications, Oracle Siebel, Oracle E-Business Suite, etc.)
The discovery process is thorough in detecting software and targets through multiple means. However, if for some reason a target is not discovered, Oracle Enterprise Manager provides a guided, manual flow to add the target.
Oracle Enterprise Manager 12c supports a group of metrics and compliance rules to be applied to the newly discovered or created targets in the form of Monitoring Templates. For example, there could be different Monitoring Templates for monitoring production and test databases. When the targets get promoted, the Monitoring Templates for subsequent management can be automatically applied, thereby making the targets manageable from the onset.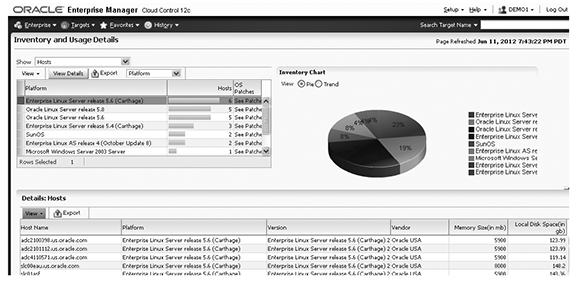 Figure 2-2. Oracle Enterprise Manager asset inventory.
Figure 2-2 shows the Inventory and Usage Details page of Oracle Enterprise Manager Cloud Control 12c, which provides a summary view of the discovered targets and allows you to drill down to view details about each target. Configuration information that is periodically collected is stored in the Oracle Enterprise Manager's Repository, allowing you to view, save, track, compare, search, and customize up-to-date configuration information for your entire enterprise.
Administrators can segregate the targets into Administration Groups, which greatly simplify the process of setting up targets for management in Oracle Enterprise Manager by automating the application of management settings such as monitoring settings or compliance standards. Typically, these settings are manually applied to individual target, or perhaps semi-automatically using custom scripts. However, by defining Administration Groups, Oracle Enterprise Manager uses specific target properties to direct the target to the appropriate Administration Group and then automatically apply the requisite monitoring and management settings. This level of automation simplifies the target setup process and also enables a data center to easily scale as new targets are added to Oracle Enterprise Manager for management. Administrators can also store with each target additional target attributes, like Cost Center, Location, Lifecycle Status, and so forth, for better reporting and decision making. Figure 2-3 demonstrates the typical Administration Group workflow.
The first step involves setting a target's Lifecycle Status property when a target is first added to Oracle Enterprise Manager for monitoring. At that time, you determine where in the prioritization hierarchy that target belongs, with the highest level being "mission critical" and the lowest being "development." Target Lifecycle Status prioritization consists of the following levels:
Mission Critical (highest priority)
Production
Staging
Test
Development (lowest priority)
As shown in the second tier of Figure 2-3, once Lifecycle Status is set, Oracle Enterprise Manger uses it to determine which Administration Group the target belongs to.
To prevent different monitoring settings from being applied to the same target, Administration Groups were designed to be mutually exclusive with other Administration Groups in terms of group membership. Administration Groups can also be used for hierarchically classifying targets in an organization. For example, Figure 2-3 shows an Administration Group hierarchy consisting of two subgroups, Production targets and Test targets, with each subgroup having its own Template Collection. In this example, targets in the Production subgroup inherit monitoring settings from Monitoring Template A while targets in the Test subgroup inherit monitoring settings from Monitoring Template B.
Dig Deeper on Oracle cloud computing infrastructure