Evaluate
Weigh the pros and cons of technologies, products and projects you are considering.
How to step up performance with Oracle in-memory database options
The Oracle in-memory database boosts analytics processing speeds and facilitates business intelligence reporting. But the tangible benefits vary. Learn about all the factors that come into play.
Introduction
With its in-memory database add-on to Oracle Database, Oracle projects querying speed increases of more than 1,000%. Users can implement the add-on with their existing Oracle database, avoiding a large data migration or full replacement of the database infrastructure. Oracle continues to offer the Oracle TimesTen in-memory database as well, which has gained popularity in vertical industries such as telecommunications and financial services. Both tools facilitate business analytics and business intelligence reporting by enabling increased flexibility and response times. An added business benefit of in-memory analytics is the reduced reliance on IT staff.
However, businesses must examine the actual benefits of in-memory analytics tools for their particular database architecture, weighing the advantages with the potential costs and specific business objectives. The performance boost may not be as dramatic as expected in some situations.
The articles in this guide offer a close examination of the potential benefits of the Oracle in-memory database options, as well as expert insights into practical uses and possible drawbacks.
1

Oracle in-memory database

-
What the Oracle in-memory database has to offer
Oracle in-memory databases can increase the performance of analytical queries and allow for a faster approach to deployment. On the other hand, there are costs associated with licensing, hardware and development. The articles in this section examine several factors to consider before choosing any Oracle in-memory database options.
2

In-memory speed

-
Speed promised by in-memory technology
Perhaps the most touted benefit of in-memory analytics is the great potential for increased processing speeds for business intelligence operations. In the articles in this section, learn more about the reality of these expedited processing times, as well as related considerations such as cost, business goals and varying architectures.

Download this free guide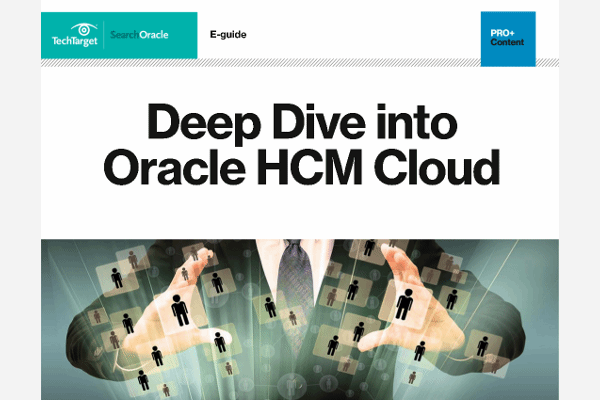 New download: Deep Dive into Oracle HCM Cloud
Our vendor-neutral guide covering the following trending topics: Oracle HCM Cloud vs. Workday HCM, migrating from on-premise to the cloud (real-world examples from Macy's and Citizens Bank), and more.
3

In-memory uses

-
Uses for in-memory technologies
In-memory processing can enhance performance in more ways than one. Organizations confronting large data sets -- big data -- and data-intensive projects have been using in-memory applications and data grids to perform analytics tasks. The articles in this section offer user experiences and advice.
4

Glossary

-
Definitions of in-memory database terms
Check out these terms to enhance your understanding of in-memory technologies.