In information technology, a repository (pronounced ree-PAHZ-ih-tor-i) is a central place in which an aggregation of data is kept and maintained in an organized way, usually in computer storage. The term is from the Latin repositorium, a vessel or chamber in which things can be placed, and it can mean a place where things are collected. Depending on how the term is used, a repository may be directly accessible to users or may be a place from which specific databases, files, or documents are obtained for further relocation or distribution in a network. A repository may be just the aggregation of data itself into some accessible place of storage or it may also imply some ability to selectively extract data. Related terms are data warehouse and data mining.
Content Continues Below

Download this free guide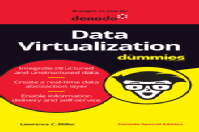 Download Now: Data Virtualization for Dummies
In this 67-page e-book, you'll explore the challenges of data silos, data overload, and regulatory compliance, what data virtualization is and how it helps businesses, use cases, data virtualization in the cloud, and much more.
This was last updated in
April 2005
Dig Deeper on Oracle data warehousing