Definition
Good Automated Laboratory Practices (GALP)
Good Automated Laboratory Practices (GALP) is a standardized set of best practices that are used to ensure data integrity for laboratory data that is gathered, processed, and archived by a laboratory information management system (LIMS). The GALP was developed to establish guidelines for automated data management in laboratories that supply data to the United States Environmental Protection Agency (EPA). The need for such guidelines has increased as a result of the ongoing shift from manual to automated procedures. Most data that is submitted to the EPA has been processed in some way by an LIMS.
The EPA's Office of Information Resources Management (OIRM) conducted extensive research into the practices used and resulting threats to data integrity. Among its findings, the OIRM reported that data was at risk because of inadequate security, poor verification practices, and inadequate documentation. Because the laboratories that provide EPA data are often independent, they may follow different procedures and have different policies. The purpose of the GALP is to establish guidelines for all laboratories supporting the EPA. With policies clearly articulated, Agency inspectors can use them in the inspections of laboratories. The EPA understands that absolute data integrity, like perfection, is unattainable; however, the GALP was created to minimize avoidable hazards.
Content Continues Below

Download this free guide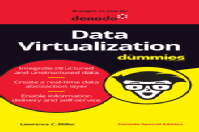 Download Now: Data Virtualization for Dummies
In this 67-page e-book, you'll explore the challenges of data silos, data overload, and regulatory compliance, what data virtualization is and how it helps businesses, use cases, data virtualization in the cloud, and much more.
This was last updated in
July 2005
Continue Reading About Good Automated Laboratory Practices (GALP)