Search
Oracle
Valued IOUG Member: Get Your Oracle FAQ Guide
Experts offer technical tips to solve common issues.
By submitting your personal information, you agree that TechTarget and its partners may contact you regarding relevant content, products and special offers.
You also agree that your personal information may be transferred and processed in the United States, and that you have read and agree to the Terms of Use and the Privacy Policy.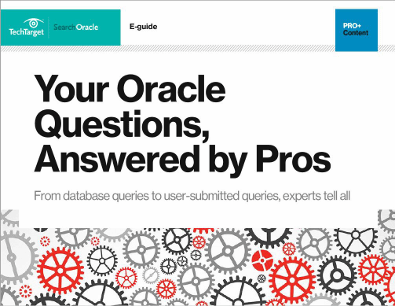 In recent years, Gartner has revealed Oracle to be the leading database vendor by a wide margin. But with the popular tool comes a vast community of users from beginners to experts that could use reminders on things like performance tuning, SQL, and keys.
EXPLORE THE ORACLE DB FAQ FOUND IN THIS GUIDE, INCLUDING:
4 common keys so you can better understand your rows and tables

The top 10 performance tuning questions asked by real Oracle users
SQL CONSULTANT RUDY LIMEBACK ANSWERS QUESTIONS ABOUT:
How to get a full history of all SQL queries run on the database

Strategies for using BETWEEN with DATETIMEs in SQL